FAQ
How well have your services performed since you started in late 2004 and how have they done in 2010?
The Momentum Rider Trading System has been extremely successful since its inception in late 2004. The systematic top down approach has been effective in all aspects of investing and can be applied in any timeframe. As a matter of fact, the trading system is used for day trading, swing trading, intermediate term trading, income investing, and long term investing with strong results across the board. More details of the system can be found in the Education area of the website but below are two files that you should open to see the market smashing details since the beginning as well as in 2010. Actually, 2010 is a perfect example of how the market can be completely flat to slightly down while the Momentum Rider services can continue to deliver excellent results in all categories – income funds, dividend stocks, ETF portfolios, and numerous themed stock portfolios. Please take a look at MR's Products and get started with us today!
Quick View Results Chart of Select MR Subscription Services: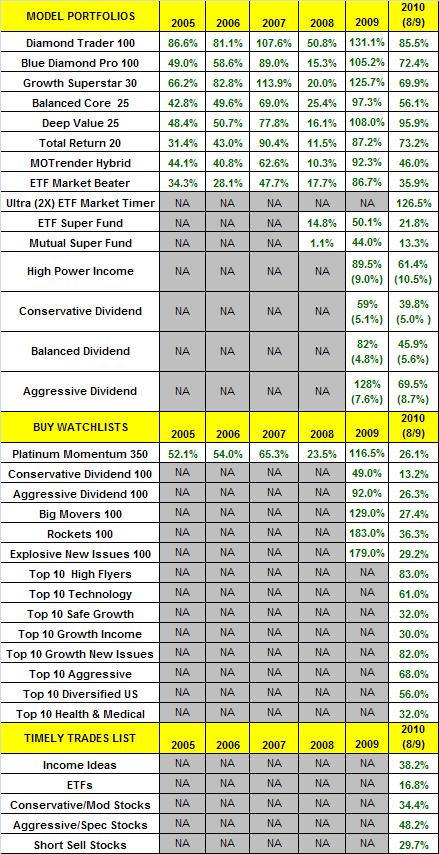 How do I decide which of your products is best matched for me as a trader or investor?
First of all, most people are both traders and investors. They usually have one or several trading accounts in which they are more aggressive with their money, and they have their retirement accounts. Based on that, we offer a large variety of services that appeal to almost any type of investor or trader. The best way to find the right match of services for you is to read through our product and service descriptions. But to help guide you through this matching process, you should consider the most important variables in reading through them:
(1) How much time can you devote to learning and to monitoring our services? For example, MR has Model Portfolios where they do all the work and they also have Advanced Trader services where the client must use their own knowledge to maximize returns based on our picks. Some of their services are updated daily, some weekly, and others monthly.
(2) What is your education level for investing and trading: beginning, intermediate, or advanced? Obviously, the options and shorter term trading services are better suited for more experienced and advanced traders. However, most of their services can be used by people with all knowledge and skill levels.
(3) What style of trading do you prefer, one that is on autopilot that you don't have to check very oftern or one that needs to be checked daily or weekly? By their nature, services with individual stock holdings need to be checked more often than ETF services that have broad diversification. Furthermore, stocks with higher beta and more risk (i.e. large price moves) need to be checked daily or every few days. The more aggressive or speculative your stock or portfolio is, the more often it should be checked. You need to keep this in mind when selecting the risk level of your stocks and portfolio services.
(4) What level of risk do you want with your service or stock selections? MR provides risk level descriptions for individual positions, stocks, and most of their portfolios and services. Make sure that you understand a stock's risk level and that you match that risk to your style and personality accordingly. For example, MR has an Aggressive Stock Dividend Portfolio and a Conservative Stock Dividend Portfolio,  each has its place but is traded differently and has different risk characteristics. A Diversified or Market ETF is going to be safer than an individual stock. Most of the time, larger capitalization size companies will carry less risk than smaller capitalization size companies. For example, XOM (Exxon Mobil) will carry less risk than a small or micro-cap company. So you need to look at its cap size before making your final decisions.
(5) What is your target holding time for the trade or investment? This is probably one of the biggest areas that people need to better understand and match to their trading service and investment selections. MR's services are all about being on the right side of the trend and momentum in the timeframe that you are trading or holding your position. So, the longer you plan on holding an investment, the more that the company's fundamentals play a role in the pick and the more you need to worry about the risk level of the pick. For example, MR might be recommend a swing trade-type stock with good short term momentum but with high volatility. If you are not a short term trader, then that selection would not be a good match for you. They may be right in the short term and you would make money but if you hold onto it for several months or longer, then it might even lose money. Or on the other side, if you are a short term trader and MR recommends AT&T (T) as a good investment stock with a 6.5% dividend, then you will be dissapointed in the results. Because it will move very slowly and may even take months to breakout of the technical base they have identified. Understanding the risk level, trends, fundamentals, and your target holding times are all essential areas to match up properly in optimizing your trading or investing results.
The Momentum Rider Trading System is designed to be applicable to every type of trader or investor. In order to truly trade with fundamentals and technicals in a profitable way, one must break down the trading and investing universe into clearly defined timeframes. It is meaningless to talk about a strong trend unless you quantify the timeframe. Furthermore, just because you think a particular stock has a company with good fundamentals, it doesn't mean that the stock's technicals support a good long entry. Sometimes, strong fundamental stocks get into momentum downtrends that last for months and they should be avoided. MR has defined the following trading and investing styles with their own defined holding times in order to optimize the Momentum Rider Trading system results.
1) Day Trader – trades in and out of momentum trades during the day and is flat at the end of the day -  Hold Time – 1 day
2) Swing Trader – typically trades mostly speculative and aggressive stocks, options, or ETF's – Hold Time – 2 days to 2 weeks
3) Short Term Trader – typically trades mostly aggressive to moderate stocks, options, or ETF's – Hold Time – 2 weeks to 2 months
4) Intermediate Term Trader – typically trades moderate to conservative stocks, options, or ETF's – Hold Time – 2 months to 6 months
5) Long Term Trader – typically trades conservative stocks and ETF's – Hold Time – 6 months to 1 year
6) Income Investor – typically invests almost exclusively in different conservative income stocks and funds – Hold Time – > 6 months
7) Traditional Investor – typically invests in very conservative stocks and ETF's – Hold Time – 1 year to 2 years
8) Long Term Value Investor – typically invests in very conservative stocks and ETF's – Typ. Hold Time – 3 years or more
9) Retirement Investor – typically invests in a broad and diversified group of Bonds, Stocks, Real Assets, and Alternative Investments through Exchange Traded Funds or Mutual Funds
10) Professional Manager – mangager of other clients' funds that range from theme portfolios (i.e., Small Cap Growth), hedge funds, to a broad retirement investment consulting role
(6) How much information do you need to make a decision before moving on a stock recommendation or ETF pick? Some of MR's services offer more information on why they make the selections and some provide just the picks. Take a look at their samples to make sure your expectations are a good match with the service for informational and educational content.
The bottom line is that almost everyone approaches their own trading and investing differently. There isn't any one perfect answer and most people fall into several different categories in the way they trade or invest. The key is to match your personality style, level of experience, time dedication for research, and typical holding times with the trading system, and you need to be consistent with its application. In other words, if you buy an aggressive stock for a Swing Trade and it breaks down through your moving average trendline, then you need to sell it. You don't want to all of a sudden turn into an Intermediate Term Trader so that you can hold it longer. This is a sure way to lose money. Furthermore, the styles and holding times are very important for the stock recommendations MR makes in their products. It goes without saying that the underlying fundamentals of a company are much more important the longer you want to hold a company. Eventually, despite short term moves in a stock, it will move towards its steady state "Fair Market Value". So, as an example, MR's aggressive stock Swing Trade recommendations may not be suitable for an Intermediate Term Trader or an Investor. Conversely, the stocks they recommend for their Defensive Stock or Conservative Dividend clients would not be the best suited for Momentum Day Trades. This is the biggest problem with other similar services in the market. It is not appropriate in MR's opinon to simply publish a top 50 or 100 stock list without qualifying how they fit with a trading style or holding period.
Please refer to the details on all of Momentum Rider's Products to better understand which ones are best suited for your style, goals, education, time dedication, and desired holding periods. MR hopes you will join in the success!
What are the main types of investments?
There are many kinds of investments that are available to you today, probably more than any time in history. However, they are typically broken up into a handful of major categories. These include
(1) Stocks : Individual stocks, ETFs, Mutual Funds, Closed End Funds, Preferred stocks,…
(2) Bonds : Emerging Market, Soverign Debt, Converitibles, Municipals, Treasuries, Corporate, High-Yield, Multi-Sector, ….
(3) Commodities and Natural resources : Gold, Silver, Platinum, Precious Metals – Owning the Physical Metals and Coins or in the form of Mutual Funds and ETFs; Timber or Wood; Water; Oil, Natural Gas; Coal, Alternative Energy (Solar, Wind): ….
(4) Alternative Investments :  Hedge funds, Long/short funds, Managed Futures, Annuities, Life Insurance, ….
(5) Business Ventures : Your own or an investment in someone else's
(6) Real Estate : Homes, Apartments, Rentals, Commercial Buildings or Property, Land, Tax Liens, Paper, REITs, ….
(7) Cash : Certificates of Deposit, Money Markets, Savings Account, Short term T-Bills, ….
Sounds simple, right? Well, unfortunately, it can get more complicated from there. You see, each type of investment can have other investments that fall under it.
There is quite a bit to learn about each different investment type. For example, the stock market can be an intimidating investment for those who know little or nothing about trading or investing. There are basically three types of investors based on style, although most peoply are hybrids of these three: conservative, moderate, and aggressive. The different types of investments also cater to different levels of risk tolerance: high risk, moderate risk, and low risk.
Conservative investors often invest a sizable portion in cash instruments. This means that they put their money in interest bearing savings accounts, money market accounts, US Treasury bills, and Certificates of Deposit. These are very safe investments that grow over a long period of time but they offer very little upside and return. While these are very low risk investments, they should only be used in moderation, especially in times of inflation. We believe that both strategic and tactical investing with bonds, stocks, natural resources (inflation hedge), real estate, and alternative investments should all be used even with conservative investors. The biggest key is to learn when the stock market gives a major sell signal, like in 2000 and 2008, to avoid the big portfolio losses. We can tell you how to do that with our Momentum Rider services and products.
Moderate investors often invest less than 10% in cash, 30 to 50%% in the stock market (mostly through ETFs or mutual funds), and probably the balance in a variety of bond funds and other alternative investments. Moderate investors can also invest in real estate, providing that it is lower risk real estate. We believe in a diversified approach that includes tactical (shorter term) investing with a portion of the funds that you change frequently as the markets dictate.
Aggressive investors commonly do most of their investing in the stock market, which can give higher returns in some cases but it also has a higher risk if you don't know how to read markets. Some managers will recommend over 60% investments in the stock market for your available funds with younger people. We believe that is far too high for most time periods of the stock market and would recommend a much more diversifed approach, even for Aggressive investors. There are aggressive bond funds to consider, specialty closed end funds, alternative investments, commodity and natural resource funds, and various ways to invest in real estate that should also be included in the mix.
Before you start investing, it is very important that you learn about all the different types of investments, and what those investments can do for you. Understand the risks involved, and pay attention to past economic trends and how those assets performed. You definitely should learn how to read stock market charts at a minimum or you should use a service like ours.
Finally, try to stick to a broad and diversified approach that will work well in the long term and avoid the huge drawdowns like 2000-2003 and 2008-2009.
MR offers two different Retirement Model Portfolios that can help get you started. Click here to learn more about these services -  Retirement Portfolios.
What does MR recommend for long term investing for a beginner or for someone who justs wants to do it on their own?
There are many different philosophies about long term investing. Most people in the past have used Mutual Funds. Momentum Rider still believes in using Mutual Funds but for simplicity, trading ease, low entry fees, and smaller money entry requirements (i.e, ETFs don't have minimum buys like $2,500), we recommend beginners or self-investors use ETFs.
If you are anxious to start growing your nest egg again or for the first time, then get started the right way by purchasing a list of diversified ETFs. Make sure to be steady with your monthly contributions to as many positions as you can in order to minimize market downturns and economic recessions over time through cost averaging. Hopefully, the markets and world economies are on the mend and will start their slow climb back up from here. It is important to have some balance and diversification as an investor and this breakdown of market equities with dividends, bonds, cash, targeted growth world markets, and commodities should be a good starting point. Another advantage of using ETF's is that very small amounts of money can be used to get started. The important thing is to start and be consistent know matter how much money you use or how long it takes you to build out the entire portfolio.
(1) Start by putting some money into a variety of fairly safe and diversified dividend paying equity ETFs (Exchange Traded Fund). The ones MR likes the best right now are:
1) DVY – IShares Dow Jones Select Dividend Index – invests in select safe and diversified dividend paying companies with a dividend yield around 3.9%.  Top 5 Holdings: Lorillard, Inc (LO).; Entergy Corporation (ETR); Mercury General Corporation (MCY); CenturyLink, Inc (CTL).; Chevron Corporation (CVX)
2) SDY – SPDR S&P Dividend -  invests in S&P 500 dividend paying companies with a dividend yield around 3.8%. Top 5 Holdings: Black Hills Corporation Common (BKH); CenturyLink, Inc. (CTL); Cincinnati Financial Corporatio (CINF); Consolidated Edison, Inc. (ED); Eli Lilly and Company Common (LLY)
3) VIG – Vanguard Dividend Appreciation -  invests in dividend paying companies based on the Mergent Dividend Achievers Select Index with a dividend yield around 2.2%. Top 5 Holdings: Wells Fargo (WFC); International Business Machines (IBM); Coca-Cola Co (KO); Pepsico (PEP); Johnson & Johnson (JNJ)
4) DWX – SPDR International Dividend -  invests in worldwide list of dividend paying companies with a dividend yield around 3.6%. Top 5 Holdings: Penn West Energy Trust (Canada); Yellow Pages Income (Canada); Acea (Italy); AstraZeneca PLC (United Kingdom); Hang Seng Bank Ltd.  (Hong Kong)
5) PID – Powershares Intl Dividend Achievers - invests primarily in international ADRS with a dividend yield around 3.5%. Top 5 Holdings: Grupo Aeroportuario del Sureste SAB de CV (ASR); Telephones of Mexico (TMX); Banco Santander SA (STD); Teekay Corporation (TK); TELUS Corporation (TU)
ETF's trade just like stocks and so they can be easily bought and sold with any discount broker online and the fees are very small. Start with a small initial investment into each of them and then add money every month while also using the accumulated dividends to buy more over time. It has been shown throughout stock market history that dividends account for over 40% of the total market's return, that index type funds outperform most money managers, and that reinvesting your dividend proceeds are a sound way to grow your money over time. Now that the US economy and world stock markets are on their way to a recovery, this is the time to start scaling back into the equity markets.
(2) Create some steady and high yield income using a variety of Bond and Income ETFs.
For example, step up in risk but one that is also a fairly safe income investment in a normal to bullish market condition is the ETF PFF – IShares S&P US Preferred Stock Index Fund. This fund is based on Preferred Stock holdings and yields around 7.9%. This will give you a way to start making your money grow while you learn more about the stock market, real estate investing, natural resources, and bonds.
Although it is does carry a higher risk in an uncertain and choppy stock market, some investment could also go into a high yield corporate bond ETF HYG – IShares IBoxx High Yield Corportate Bond. It has an income yield of 8.9%. The investment quality corporate bond fund is LQD – IShares IBoxx Investment Corp Bond with a yield of 5.4%.
A way to take advantage of Treasury Bonds but to get a higher yield then buying them is with the ETF PLW – Powershares 1-30 Laddered Treasury Porfolio. The fund invests in a variety of different maturity Treasury securities and yields around 3.6%.
To help with inflationary times, you should look at investing in treasury inflation protected bonds or TIPS. IShares offers this exposure in an ETF TIP - IShares Barclays TIPS Bond and it yields 3.8%.
For some municipal bond exposure, the safest one may be the ETF PZA – Powershares Insured National Municipal Bond Portfolio. Its yield is 4.6%.
(3) Beat the Tough Times using Money Market Funds and CD's
You could also invest in Money Market Funds in times of economic or stock market turmoil. This can often be done through your bank. These funds have higher interest payouts than typical savings accounts, but they work much the same way. These are short term investments, so your money won't be tied up for a long period of time – but again, it is making money.
Certificates of Deposit are also sound investments with no risk. The interest rates on CD's are typically higher than those of savings accounts or Money Market Funds.
You can select the duration of your investment, and interest is paid regularly until the CD reaches maturity. CD's can be purchased at your bank, and your bank will insure them against loss. When the CD reaches maturity, you receive your original investment, plus the interest that the CD has earned.
(4) Hedging Inflation and Providing Growth over the Long Term with World Markets
MR would also recommend investing in some of the Exchange Traded Funds (ETFs) of the world markets. The world market ETFs are much less volatile than individual stocks even though they trade just like an individual stock. Furthermore, the world market ETFs provide a large diversity just like mutual funds, AND in almost all cases they will outperform 90% of mutual funds or money managers. This has been well documented by comparing the historical S&P 500 performance with mutual funds and money managers' performance. The basic ones Momentum Rider recommends investing in other than the US (QQQQ, SPY) are the following foreign country market ETFs: (China (FXI), Hong Kong (EWH), Brazil (EWZ), Europe (VGK), Latin America (ILF), Pacific Ex-Japan (EPP), Emerging Markets (EEM), and BRIC (EEB)).
(5) Hedging Inflation and Providing Growth over the Long Term with Commodities and Natural Resource Master Limited Partnerships (MLPs) and Trusts
MR also believes strongly in having exposure to natural resource and commodities funds going forward. They will provide growth and an inflation hedge long term so you can look at putting some money in over time in the commodity ETF's: (Oil and Gas (OIH, USO, UGA), Gold (GLD, GDX), Silver (SLV), Steel (SLX), Metals and Mining (XLB), Agribusiness (MOO), Copper (JJC), Timber (CUT), and Energy (XLE)). These are just a few examples but there are many similar funds to look at as well.
There are some very high-yield income opportunities in the natural resource space in the form of MLPs. These are basically companies that have to give back a large income to investors from their company's profits. There are many individual companies that MR recommends in their subscription services (exs. AHGP, TOO, KMP, MVO, CQP) but there is an ETN that covers a diversified grouping of them. It is AMJ – JP Morgan MLP Index ETN and is probably the safer alternative long term with a dividend yield of 5.7%.
Investing in the various ETF's discussed here are certainly a good way for anyone wanting to get started the right way for growing your money over time. Let's hope the worst of the bear stock market is over. Through steady and consistent monthly investing in the diverse list of investments covered here, MR is confident that you will be on your way to a better investing future.
(6) Ride the Real Estate Recovery Back Up
Another investment area that is still struggling but that will recover over time is real estate. Getting exposure to some of the hardest hit areas like single family housing and their related companies can be achieved through the ETF ITB – IShares Dow Jones US Home Construction. Two other real estate ETFs worth investments are the US REIT ETF RWR – SPDR Wilshire REIT that has a dividend yield of 3.6%, and an international real estate ETF WPS – IShares World Ex-US Property Index that has a dividend yield of 5.3%.
The following chart is a reasonable start for the various ETF portfolio allocation weightings. Take your time and build it out the best you can with the money you have. The lower trading fees now (zero for some ETFs at a few brokers and < $8.00 a trade at many online brokers) allow for small investments without getting eaten up by commissions. Momentum Rider recommends that investors try to rebalance these allocations every quarter if possible. So if certain positions have not performed as well and become less then the recommended percentage allocation, then add more money then normal to bring them back in-line. This will help smooth out any market dips. And of course, learn how to read the markets for any major bear market signals to avoid large equity losses. A Momentum Rider rule of thumb is that any time markets are below their 200 Daily Simple Moving Averages, equities are in a danger zone for large losses and you should be very cautious.
These portfolio samples are a reasonable start for the various ETF portfolio allocation weightings. Take your time and build your portfolio selection out the best you can with the money you have. The lower trading fees now (< $8 a trade at many online brokers) allow for small investments without getting eaten up by commissions. Momentum Rider recommends that investors try to rebalance these allocations every quarter if possible. So if certain positions have not performed as well and become less then the recommended percentage allocation, then add more money then normal to bring them back in-line. This will help smooth out any market dips. And of course, learn how to read the markets for any major bear market signals to avoid large equity losses. A Momentum Rider rule of thumb is that any time markets are below their 200 Day Simple Moving Average, equities are in a danger zone for large losses. Reducing your equity exposure and sometimes even going to cash in stocks is a prudent course in this situation. If the market is trending up above its 50 and 200 Day SMA's, then equity allocations can even be increased.
SAMPLE PORTFOLIO #1: Large Investor Portfolio (>$50,000):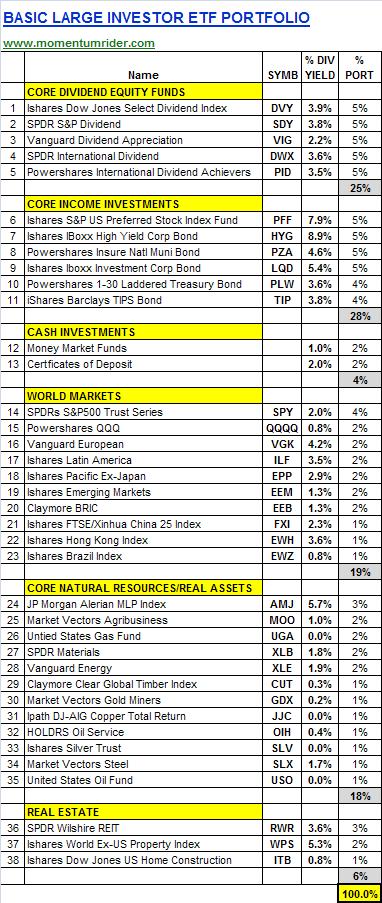 SAMPLE PORTFOLIO #2: Small Investor Portfolio (< $50,000):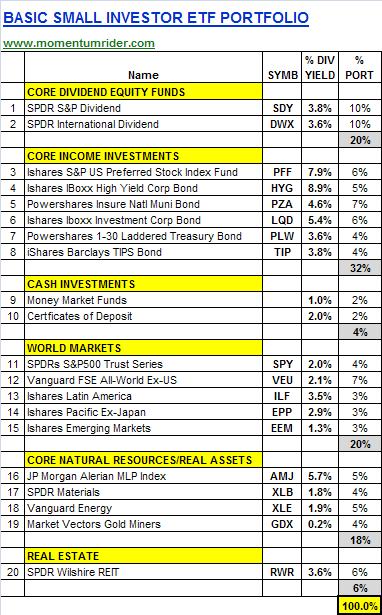 These sample portfolios are very simple in design. For even more educational and detailed long term investing information and recommendations, including model portfolios that add tactical ETFs, alternative investments, and market timing, look at subscribing to MR's extensive investor and retirement subscription services.



How do I determine what the best ways to invest are?
There are numerous different types of investments, and there are many factors in determining where you should invest your funds. At a minimum, you need to set your goals based on the amount of time you are investing with the average returns you expect per year. You should create a table that shows the years, average returns, and the end money goal through the final design year. Depending on the average return you expect, you will better be able to compute what kind of diversity you need in the investments that will help achieve your overall goal. For example, a 70% bond and 30% stock portfolio might return about 9% historically, and a 70% stock and a 30% bond portfolio might return 12% historically. However, clearly the risk would be higher for the 70% stock mix portfolio. On the other hand, you might be able to create even higher than the historic returns if you increase the risks in the type of stocks you pick in the right market conditions.
Of course, you should always try to balance those investments with the amount of risk or safety associated with each one in addition to its liquidity feature. For example, you may think investing in land is a safe long term investment. However, it is not liquid at all if you need emergency cash. Stocks may be more liquid but they carry more risk depending on the type of stock and the market conditions. US Treasuries offer both safety and liquidity in most cases but the returns are usually minimal. It is a game of balances in a number of areas.
Therefore, determining where you will invest begins with researching the various available types of investments, determining your risk tolerance, and determining your investment style – along with your financial goals.
If you were going to purchase a new car, you would do quite a bit of research before making a final decision and a purchase. You would never consider purchasing a car that you had not fully looked over and taken for a test drive. Investing works much the same way.
You will of course learn as much about the investment as possible, and you would want to see how past investors have done as well. It's common sense!
Learning about the stock market and investments takes a lot of time… but it is time well spent. There are numerous books and websites on the topic, and you can even take college level courses on the topic – which is what stock brokers do. With access to the Internet, you can actually play the stock market – with fake money – to get a feel for how it works.
You can make pretend investments, and see how they do. Do a search with any search engine for 'Stock Market Games' or 'Stock Market Simulations.' This is a great way to start learning about investing in the stock market.
Other types of investments – outside of the stock market – do not have simulators. You must learn about those types of investments the hard way – by reading.
As a potential investor, you should read anything you can get your hands on about investing…but start with the beginning investment books and websites first. Otherwise, you will quickly find that you are lost.
Finally, speak with a financial planner. Tell them your goals, and ask them for their suggestions – this is what they do. A good financial planner can easily help you determine where to invest your funds, and help you set up a plan to reach all of your financial goals. Many will even teach you about investing along the way – make sure you pay attention to what they are telling you.
If you want to get some ideas of how we recommend investing in retirement portfolios, take a look at our subscription services on this topic.
What are basic types of bonds I can invest in?
Investing in bonds is fairly safe (depending on the quality and timing), and the returns are usually very good. There are four basic types of bonds available and they are sold through the Government, through corporations, state and local governments, and foreign governments.
The greatest thing about bonds is that you will get your initial investment back. This makes bonds the perfect investment vehicle for those who are new to investing, or for those who have a low risk tolerance.
The United States Government sells Treasury Bonds through the Treasury Department. You can purchase Treasury Bonds with maturity dates ranging from three months to thirty years.
Treasury bonds include Treasury Notes (T-Notes), Treasury Bills (T-Bills), and Treasury Bonds. All Treasury bonds are backed by the United States Government, and tax is only charged on the interest that the bonds earn.
Corporate bonds are sold through public securities markets. A corporate bond is essentially a company selling its debt. Corporate bonds usually have high interest rates, but they are a bit risky. If the company goes belly-up, the bond is worthless.
State and local Governments also sell bonds. Unlike bonds issued by the federal government, these bonds usually have higher interest rates. This is because State and Local Governments can indeed go bankrupt – unlike the federal government.
State and Local Government bonds are free from income taxes – even on the interest. State and local taxes may also be waived. Tax-free Municipal Bonds are common State and Local Government Bonds.
Purchasing foreign bonds or specialty bonds (Soverign Debt, Convertibles, Multi-Sector, Emerging Market, Total Return, …) is often done through ETFs, Closed End Funds, or Mutual Funds. It is often riskier to invest in foreign country bonds or these specialty bonds but they can be rewarding if carefully selected at the right time. Of course, we still believe the safest type of bond to buy is one that is issued by the US Government or it's states.
The interest may be a bit lower, but again, there is currently less risk. For the best results, reinvest your interest and dividends and optimize the bond portfolio using "laddering". This involves active management of buying and selling the bonds before they mature and taking advantage of favorable market condidtions to do so.
What are the basic types of stocks I can invest in?

The different types of stock are quite simple. Common Stock is a term that you will hear quite often. Anyone can purchase common stock, regardless of age, income, age, or financial standing. Common stock is essentially part ownership in the business you are investing in. As the company grows and earns money, the value of your stock rises. On the other hand, if the company does poorly or goes bankrupt, the value of your stock falls. Common stock holders do not participate in the day to day operations of a business, but they do have the power to elect the board of directors.
Along with common stock, there are also different classes of stock. The different classes of stock in one company are often called Class A and Class B. The first class, class A, essentially gives the stock owner more votes per share of stock than the owners of class B stock. The ability to create different classes of stock in a corporation has existed since 1987. Many investors avoid stock that has more than one class, and stocks that have more than one class are not called common stock.
The last type of stock is called Preferred Stock. However, preferred stock isn't exactly a "true" stock. It is a mix of a stock and a bond. The owner's of preferred stock can lay claim to the assets of the company in the case of bankruptcy, and preferred stock holders get the proceeds of the profits from a company before the common stock owners. If you think that you may prefer this preferred stock, be aware that the company typically has the right to buy the stock back from the stock owner and stop paying dividends.
Most people that play the stock market are investing in common stocks, some that pay dividends, and some that don't. We are strong believers in finding stocks that will have both capital appreciation and that pay a good dividend. We offer numerous services that help our customers make money from these stocks in the form of Model Portfolios, HOT Lists, and several newsletters. Please take a look at our products for more information on these services.
How do I get started with online stock trading?
The invention of the Internet has brought about many changes in the way that we conduct our lives and our personal business. We can pay our bills online, shop online, bank online, and of course buy and sell stocks online. Traders love having the ability to look at their accounts whenever they want to, and brokers like having the ability to take orders over the Internet, as opposed to the telephone.
Almost all brokers and brokerage houses now offer online trading to their clients. Another great thing about trading online is that fees and commissions are often very low. While online trading is great, there are some drawbacks.
If you are new to investing, having the ability to actually speak with a broker can sometimes be beneficial. If you aren't stock market savvy, online trading may be a dangerous thing for you. If this is the case, make sure that you learn as much as you can about trading stocks before you start trading online or use a service like ours that has education and guidance.
You should also be aware that getting to a computer or your trading software can sometimes be a challenge. Although with wireless phones and wireless internet services it is much easier now, you won't always have the ability to get online to make a trade. It is still a nice plus to be able to call the broker to complete a trade if you need to. This is true whether you are an advanced trader or a beginner, and can be useful on vacations if needed.
It is also a good idea to go with an online brokerage company that has been around for awhile. You won't find one that has been in business for 25 years, but you can find a company that has been in business that long and now offers online trading or an online company from the start with a very large client base (Ameritrade, Etrade, Scottrade, Trade Station, Schwab, Options Express, …..).
Again, online trading is a very convenient and powerful way of trading that we recommend. But do some research on the company and on your trading system before you decide to do your trading online, and make sure that you really know what you are doing! And of course, we encourage you to take a look at all of our subscription services that are perfectly suited for online trading.
How do I know when to sell my stocks?
While most people spend quite a bit of time and research trying to select stocks, it is often hard for them to know when the right time is to sell their stocks – especially for beginning traders or investors. The good news is that if you have chosen your stocks carefully as a long term investor, you typically won't need to sell for several years, unless we are in a major bear market. For a trader, there could be numerous reasons for selling your stocks after only a few weeks or months. This is ultimately where a trading system like Momentum Rider comes into play. We tell you exactly when to sell based on your trading style and how long you want to hold your stocks. But even as a long term investor, there are times when you will need to sell your stocks before you have reached your financial goals for a variety of reasons. The biggest one is when there is a bear market.
Understanding how to read market market charts can be a great benefit to determining when there is a bear market that could last for more than several months. For example, it was clear based on the market charts that holding on to most stocks in the years 2000 through 2002 and from early 2008 to March of 2009 was a big mistake. Furthermore, in the times after 2002 and after the March bottom in 2009, we were in a bull market where it would was prudent to hold onto most of your longer term core holdings.
Another factor that makes this a harder decision in today's markets is that many stocks are better suited for trading in shorter time frames vs. the buy and hold method. In MR's opinion, the buy and hold method can only work well with the most conservative core holdings (example of some core holdings could be McDonalds (MCD), Proctor and Gamble (PG), General Mills (GIS), Intel (INTC), Exxon Mobil (XOM), Coca Cola (KO), Altria Group – the old Phillip Morris (MO), …. etc. These type of stocks have shown staying power and stability over time, provide dividends and dividend growth, and they don't normally swing wildly over the course of weeks or months. On the other hand, most of the 17,000 or more stocks show higher volatility and probably should be sold in shorter time frames (weeks to months) to achieve the optimum results.
The bottom line is that if you truly want to know when to sell stocks you need to:
1. Understand your individual stock's characteristics (conservative, moderate, aggressive, speculative, etc.)
a) Conservative core holdings can be held much longer, especially if they are used to provide income from dividends
b) Aggressive or speculative stocks typically have to be traded in a few weeks to a few months or so to avoid negative results. You should learn how to catch the strong uptrends and then sell them when they breakdown below key support or the 50 Day simple moving average, for example.
2. Study the company's short and long term fundamentals including the management – this becomes more important the longer you want to hold the stock.
3. Study the sector and industry that the stock is in to make sure they are also top performers with a good fundamental story. For example, take a look at Schlumberger (SLB). It has great fundamentals as an oil service company and the natural resources industry also has a strong fundamental story going forward as the world continues to run out of oil and the foreign countries like China and India escalate their consumption. But, the timing of it purchase still needs to be made in the right market condition and in right trend for the stock.
4. Watch your stocks' price movements on a chart, daily if possible, for best results.
- Is it in an uptrend or downtrend?
- Is it holding key support levels and moving averages? (ex. did it breakdown through a long term double or triple bottom support area or the 50 Day simple moving average?)
5. Watch for any stock news (especially bad) because that could start a fast fall in the price. In addition, really good news could boost the price to become significantly overvalued so it might be time to take some profit. Or, in the case of a buyout of your company, you may want to sell the stock in order to use the proceeds to buy another stock. The actual sale of the company can sometimes take months and there is opportunity cost for your money while the price is pegged near the buyout price.
AND probably the most important -
6. Watch the markets' price movements (DJIA, NDX, S&P 500) on a chart. The reason why the market performance is so important is that it drives the direction of over 75% of the stocks. So if the market is going down then almost 75% of stocks will do down. While it is good to try to understand and keep up with the markets' fundamental drivers: world events, wars, currencies, inflation, interest rates, government report releases, GDP growth, debt problems, etc., it is typically very convoluted to try to work through the complete picture and predict the future. That is why watching the actual market prices relative to their moving averages and support levels is more critical to your trading success. Sometimes, if you just look at the "current" macro fundamentals or the "current" state of the economy, then you will be on the wrong side of the market. You must understand that the market discounts future news from 6 to 9 months out. The big money players are always looking forward before placing their big bets.
7. As an investor or trader, you need to educate yourself as much as possible about the basics of company fundamentals and on technical analysis (chart reading) if you want to truly succeed in the stock market. Don't always assume that your financial planner, broker, or advisor know what they are doing and that they are watching out for your best interests as often as they should be. You need to be proactive.
Learning when to take profits on winners and when to sell your losers for small losses is a whole subject in itself. But the concepts we presented here should give you a much better understanding of the major considerations for selling stocks. And, as always, it may be best to consult with a "knowledgeable" and "success proven" broker or a financial advisor before buying or selling stocks. They will work with you to help make the right decisions to reach your financial goals. Of course, we would like you to consider using Momentum Rider products and MR's trading system so we urge you to review our subscription services and offerings.
How do I choose the right stock broker?
Depending on the type of investing that you plan to do, you may want to hire a full service broker to handle your trading for you. Brokers work for brokerage houses and have the ability to buy and sell stock on the stock exchange. You may wonder if you really need a broker. The answer may be yes if you want some guidance or do not know how to trade on your own. Momentum Rider's recommendation is to use our subscription services and an online broker but that is up to you. If you intend to buy or sell stocks on the stock exchange, you must use a brokerage firm or a discount online broker.
Stockbrokers are required to pass two different tests in order to obtain their license. These tests are very difficult, and most brokers have a background in business or finance, with a Bachelors or Masters Degree.
It is very important to understand the difference between a broker and a stock market analyst. An analyst literally analyzes the stock market, and predicts what it will or will not do, or how specific stocks will perform. A stock broker is primarily there to follow your instructions to either buy or sell stock… but some do provide some assistance.
Brokers earn their money from commissions on sales in most cases. When you instruct your broker to buy or sell a stock, they earn a set percentage of the transaction. Many brokers charge a flat 'per transaction' fee.
There are two types of brokers: Full service brokers and discount brokers. Full service brokers can usually offer more types of investments, may provide you with investment advice, and is usually paid in commissions.
Discount brokers typically do not offer any advice and do no research – they just do as you ask them to do, without all of the bells and whistles.
So, the biggest decision you must make when it come to brokers is whether you want a full service broker or a discount broker (mostly online).
If you are new to investing, you may need to go with a full service broker or a service like Momentum Rider to ensure that you are making wise investments. They can offer you the skill that you lack at this point. However, if you are already knowledgeable and profitable in the stock market, all you may need is an online discount broker. The various software applications for online brokers are really powerful now, allowing charting and fundamental analysis on your own. A few of the brokers you may want to consider are Schwab, Ameritrade, Etrade, Scottrade, Options Express, Trade Station, Fidelity, …..
Why is setting your financial goals so critical to do before investing?
When it comes to investing, many first time investors want to jump right in with both feet. Unfortunately, very few of those investors are successful. Investing in anything requires some degree of skill. It is important to remember that few investments are a sure thing – there is the risk of losing your money!
Before you jump right in, it is better to not only find out more about investing and how it all works, but also to determine what your goals are. What do you hope to achieve with your investments? Will you be funding a college education? Buying a home? Retiring? Before you invest a single penny, really think about what you hope to achieve with that investment. Knowing what your goal is will help you make smarter investment decisions along the way!
Too often, people invest money with dreams of becoming rich overnight. This is possible – but it is also rare. It is usually a very bad idea to start investing with hopes of becoming rich overnight. It is safer to invest your money in such a way that it will grow slowly over time, and be used for retirement or a child's education. However, if your investment goal is to get rich quick, you should learn as much about high-yield, short term investing as you possibly can before you invest.
You should strongly consider talking to a financial planner before making any investments. Your financial planner can help you determine what type of investing you must do to reach the financial goals that you have set. He or she can give you realistic information as to what kind of returns you can expect and how long it will take to reach your specific goals.
Again, remember that investing requires more than calling a broker and telling them that you want to buy stocks or bonds or from buying a few stocks online. It takes a certain amount of research and knowledge about the market if you hope to invest successfully.
Finally, if you don't have a lot of time to educate yourself or you would like some guidance, we encourage you to look at our products and services. There are many subscriptions that we offer and one or more are bound to fit your needs.
What are Index Futures and how are they traded?
Index futures are basically contracts that enable you to buy an index like the Dow or S&P 500 for a certain price. You are not really buying all the stocks in the index, rather you are just settling in cash. It sounds like it would be hard to profit except for the fact that margin requirements are extremely low. For example, if the S&P 500 is trading at 1000 and you want to buy one E-mini contract, it would cost you about $50,000 if you weren't trading on margin. However, using margin to buy the contract, it would cost less than $5000. Now for every point the index moves, you can gain or lose $50 (The multiplier is 50 for e-mini's. S&P's have a multiplier of 250 and are more expensive to trade). The S&P 500 can easily move 20 to 100 points from high to low everyday. The bad part is that you risk a huge amount of money when buying. The good part is that you can use stops to protect yourself from losses.
Note that futures can be shorted much like stocks, allowing you to make money in any kind of market. Futures are settled in cash the following morning, which means funds are taken out or put in your account automatically. When trading the E-mini, you can trade 24 hours a day on the Globex system. However, when trading e-mini's on Globex, you can only use limit orders. That means no stop loss or market orders. Some brokers allow stops on e-mini contracts, but they basically use limit orders to manually get out of a trade.
We do not have any product for Index Futures at this time. However, our Momentum trading techniques and our Market Timing Newsletter would benefit anyone trading the Futures markets.
What are Exchange Traded Funds and do you have products that use ETFs?
An exchange traded fund (ETF) is similar to a mutual fund but it trades like a stock. These funds are regulated by the SEC. They hold a pool of assets such as stocks, bonds, futures, or commodities. An ETF's price reflects the value of the underlying equities it represents. Unlike mutual funds, ETFs track and hold a basket of stocks based on an index or a sector. By owning just one of these funds you can command a whole market, country, or target an industry. With an ETF, you hold a set of stocks without paying the extra fees of purchasing each of them separately. ETF's are very attractive in our opinion and may be the best investment vehicle available today. Many also now offer 2X or 3X leverage for those that want to trade momentum without trading options. However, the 2X and 3X ETFs should only be traded in the short term and not held for more than a few weeks or months as there is significant mathematical decay the way they are managed and rebalanced. We do offer numerous services for retirment accounts, investors, and traders that recommend ETFs. Please refer to the details in our Product and Service descriptions.
What is Margin and what is required for Day Trading accounts?
Margin basically doubles your trading dollars for buying stocks but it carries an interest rate charge for that extra money. A 5% gain can turn into a 10% gain if you use some of that extra trading money. If you have a poor trading system, you will lose money twice as fast. If you have a good system, you may make money twice as quickly. Most brokerages need $2000 to initially start up a margin account. We would only recommend using margin if you are an experienced trader with a proven track record of producting results. A new SEC rule mandates that if you are a "pattern daytrader", you must have $25,000 in your account to start and it must be maintained above $25,000. Of course, it goes without saying, that day trading should only be performed by advanced traders with sound trading techniques.
What are some basic trading terms that I should know before starting to trade stocks or options?
We would refer you to our extensive list of terms in our Glossary.
What are options and do you have Option Products?
Every serious trader should learn about options. Options are very similar to stocks (they are based on stocks) but they expire at a certain date. An option is basically used to control a certain amount of shares of stock using leverage. One option contract controls 100 shares of a stock. A Call option is a bet on the stock going up in the future and a Put option is a bet on the stock going down in the future. It is true that there are many different kinds of options and that the strategies can get complicated. It is also true that many options will expire worthless and that it can be difficult to make money trading options. However, options traded properly can be a fairly safe way to leverage your money and it can lead to very good profits. Futhermore, certain option strategies can protect your current stock holdings while generating extra income. We are strong believers in the use of options but only after you have the proper knowledge and training on their use and risks. In general, to avoid higher risk options, we recommend trading very liquid options that are at least 6 to 9 months out for beginners and ones that are deep in the money. Furthermore, you should have stop limits (mental) that you use to protect your principal if the trade goes against you.
We do offer several products that deal specifically with options. And, of course, most of the momentum stocks in our model portfolios and newsletters trade options as well.
OPTION EXAMPLE: You buy 5 contracts of the $100 July calls on XYZ, with the option trading at $5. This means that you just purchased the control of 500 shares of the underlying stock for $2500 total (5 * 100 * $5=$2,500). Let's say that the stock was at $100 when you bought its option, and now the stock has gone up to $110. Assume the option is now worth $10, so your $2500 investment is worth $5000, a 100% gain! All this from a 10% move in the stock. Basically speaking, if the stock goes up a little, the option goes up much more in comparison. The main problem with options is that you risk losing all of your money if you let it expire. But you can use stops and limit your losses if you trade it properly to avoid this. On the plus side, your maximum exposure is only $2500 vs the outright stock purcharse outlay of $50,000.
Here are a few terms you must know and others are located in our Glossary.
CALL: A call option is basically the right to buy a number of shares of stock at a given strike price. Most people, including us, never exercise our right to actually buy the stock. We just trade the options before they expire. When you buy a call, you are betting that the stock will go up, and thus the option will also rise in price. Then you sell the call. To ensure that there is a buyer out there, we make sure that the OI (Open Interest) is at least 300.
CONTRACT: A contract on an option will be bought or sold in lots of 100. If you buy 6 contracts, you are buying control of 600 shares of the underlying stock.
COVERED CALLS: Covered calls are basically options that you sell when you own a stock. For example, if you have 500 shares of XYZ and then sell 5 contracts of the September calls for $3, you make $1500 right away. The problem with covered calls is that you can have your stocks bought from you for less than you originally paid for them, and you must hang on to the stock until the expiration date or when you buy back the calls. The benefit is that on stocks that you want to keep and that have been moving sideways, you can now have a way to make money.
EXPIRATION DATE: The date that an option is set to expire.
IN THE MONEY: A term used to describe when the strike price is less than the actual price for a call option. For example, XYZ is trading at $50, and the strike price for the call is at $45, so it is in the money by $5.
OPEN INTERERST (OI): Open interest on an option. The option you buy should have many other buyers and sellers before you jump in. We like options to have an OI of 300 or more. We also like to see that other people are actually trading the option the day we buy it.
PUT: A put option basically is just the opposite of a call. With a put, you are betting that the underlying stock will go down. A put increases in value when the stock or index goes down. It is one of the ways you can profit in a bear market or during a correction or certainly protect yourself.
STRIKE PRICE: The price at which a stock can be bought if the option is exercised.
VOLATILITY: Options are priced mostly on volatility. It is basically a percentage measurement based on how much the price of the underlying issue (stock or index) fluctuates up and down. A big jump in volatility means a big jump in option price.
How do I start up a brokerage account?
The easiest and cheapest way we have found to start up a brokerage account is to go with a company that is internet based. The reason for this is simple: low commission costs. Many deep discount brokers charge as little as $0.01 per share, and as low as $1 minimums. Note: you are charged commission for both buying and selling. All you need to do is apply online then sign a few documents. There are many different online brokers with numerous pluses and minuses depending on your trading style. They all charge fairly low commissions, and their software interface systems are fairly simple and easy to use. Remember to check all the fees that a broker charges. Limits and stops might cost you more to do. If you're going to do option trading, make sure you know about their increased risks. Setting up your account on margin is usually a good idea since it will effectively double your buying power. However, we would only recommend you use margin if you are a very advanced and successful trader. Otherwise we would strongly recommend against it. A few brokers out there are Etrade, Schwab, Interactive Brokers, Trade Station, Options Express, TD Ameritrade, … Please do your own research and good luck in your trading!
How much money should I use to trade or invest?
The answer really depends on whether you are using it to trade (typicallly holds less than 6 months) or invest. We believe that trading stocks or ETFs should be primarily done with discretionary money. Unless you have a system with consistent and proven results, it has been shown over and over that most people will lose most if not all of their money with short term trading. So if you have discretionary money that you can afford to lose, then we think you can get started with trading a system. It doesn't take much to get started but you will not be able to day trade unless you keep your account above $25,000. You can either rely on the Momentum Rider system as a start or you can use someone else's with proven results.
As for investing, it is never too early to start and you can do so with very little money. However, to determine how much money you should allocate, you must first determine how much you actually can afford to invest, and what your financial goals are.
First, let's take a look at how much money you can currently afford to invest. Do you have some savings that you can use? If so, that is an excellent start. However, you don't want to cut yourself short by putting your money in certain kinds of investments. What were your savings originally for and can you convert the investment back into cash if you need it? For those getting started that need liquidity, we recommend the newly popular Exchange Traded Funds. They provide excellent diversity, lower volatility, and trade like a stock. We have several services that use ETF's for trading, investing, and retirement accounts.
We believe that is important to keep three to six months of living expenses in a readily accessible cash-type account – don't invest that money! Don't invest any money in an asset that you may need to lay your hands on in a hurry in the future.
So, begin by determining how much of your cash should remain in a savings account, CD, or Money Market account, and how much can be used for longer term investments. Unless you have funds from another source, such as an inheritance that you've recently received, this will probably be all that you currently have to invest.
Next, determine how much you can add to your investments in the future. If you are employed, you will continue to receive an income, and you can plan to use a portion of that income to build your investment portfolio over time. Speak with a qualified financial planner to set up a budget and determine how much of your future income you will be able to invest.
With the help of a good financial planner, you can be sure that you are not investing more than you should – or less than you should in order to reach your investment goals. If you don't want to hire a planner, then do it yourself by reading many of the simple financial planning books out there. It is not rocket science and can be done by most people very simply.
For many types of investments, a certain initial investment amount will be required. Hopefully, you've done your research, and you have found an investment that will prove to be sound. If this is the case, you probably already know what the required initial investment is.
If the money that you have available for investments does not meet the required initial investment, you may have to look at other investments. Never borrow money to invest, and never use money that you have not set aside for investing. We also are against using margin in your accounts.
Please remember, the mentality for longer term investing and asset allocation is quite different than simply trading indiviudal stocks. Make sure you have a diversified and balanced portfolio allocation for investing and don't get too caught with the speculative plays. A little is okay, but it should be done in small amounts.
We believe in speculation and aggressive trading only if you have a service like ours or if you know what you are doing and you have a successful system to follow.
Remember, frequent stock market trading (day or swing trading) should only be used with money you can lose and not your longer term investment money.